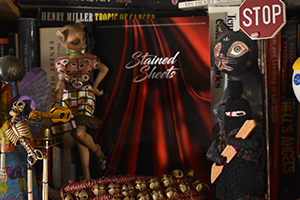 STAINED SHEETS
written by Ahlia Demas
Stained Sheets is an eclectic collection of adult contemporary poetry
written by Southern California native Ahlia Demas.

This 3rd published collection includes samplings from her 2 previous collections,
"Snow Fox" and "Twenty Sunsets", were both published in 1998.
This collection contains grit and adult themes as well as some lighter-toned poetry.
The compilation also contains some two and three-lined verses for fun.
Here is a sample of what you may find:
To L.........

I could get lost
Among the ruins of
Statuesque beauties,
those velvety desserts
that you splendor.

Lost between
The dampen sheets
Of a thousand faces.
And thousands
of tangled limbs.

There.....
There among dozens of lovers
Upon hundreds of others....
Am I to be lost
In the definition?

~Ahlia Demas 2008
Order your ebook or soft copy edition
of Stained Sheets through Amazon.
Or you may order an autograph soft cover edition
direct from Ahlia Demas at AhhFlee Publications.